sweet baby jesus, i got business cards for work — why? no reason… i just wanted them!
mr. fuzzycam even snapped a shot: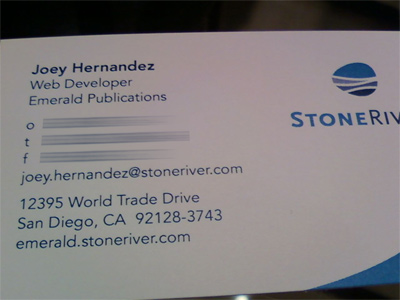 i'm not gonna give 'em out or anything… it's just to be a tangible reminder i guess…
*NOTE – that email doesn't even exist either… hahah — you'll get bizzounced
when they delivered the cards to me, i thought of this old monster.com commercial (couldn't find  a youtube vid, unfortunately)
what's odd is that my old department is trying to enter the support site i worked on (essentially built from scratch) into a contest for the best web support site. there are different categories so obviously my baby won't be competing against hp or dell… the site will probably be in the small fries category… trying to win the blue ribbon for "best pig"
i dunno what'll happen… i really haven't looked at the competition… but in the .01% chance that the site wins… i'm totally gonna brag — ha!