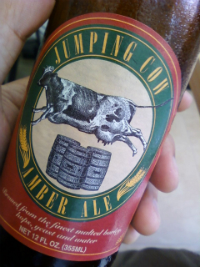 store: trader joe's
type: american amber/red ale
abv: 5.50%
suggested by: debbie morales
at first taste, i wasn't a huge fan… but since i had six of 'em, it kind of grew on me.
it's kind of funny — the different things i'll notice the second, third, fourth time i drink a beer — it's a bit on the hoppier side, but it has a slight creamy finish as you progress through the  bottle, which is nice.
i've ended up eating a snack whenever drinking this — try it with those lays jalapeno kettle cooked chips – that's a good combo… well, they're good chips overall – ha
i think that fat tire is a bit smoother to drink, but this one is alright.
beeradvocate: B-
me: B+