so andy and i stumbled across kashtan during lunch (it was next to this crap mexican place, but that's a different story that i won't bore you with)
well this place actually had a neon hofbrau sign in their window, which is always be a good thing.
it's a weird euro-kinda-setup… deli, market, and adjoining FULL bar (i mean FULL… over 300 beers from almost every european country — yes… JACKPOT)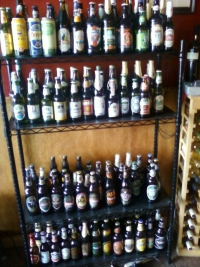 the owner, tom, is a cool laid-back guy — tho it wouldn't hurt to have someone helpin' him out with sangwiches… he knew his stuff tho… even knew what a rachel was (batman's favorite sandwich — tangent, i know)
the location of this restaurant is kinda strange — tucked away about a block or two from rb high, so i think that doesn't really help him out when people are trying to look for something new to try. but with us being the only people in the joint, we were able to chat with him.
apparently, he has a beer club (yes, i will be joining) that really piqued my interest — you pay $25 for a year membership and you get a passport that he'll stamp whenever you drink a beer there. each stamp gets you closer to a rank: prince (50), crown prince (100), and czar (250) — these are guesses… when i go back, i'll confirm that
oh and when you get czar status, you get a plaque on the wall like this guy (only one in the whole place so far)
* there are some perks that can't be published (or he'll get in trouble by the ABC) — but they're pretty cool…
so expect some reviews for some strange euro beers in the near future (had some yesterday that i wrote notes on… ha!)