don't call it a comeback!
what a game! [box]
down 7-1 (five of which came in the first inning), the padres rallied like mofo's to win it 8-7! such a good game, the padres decided to spontaneously break into an eiffel tower (picture below is moments before eckstein walks into the eiffel)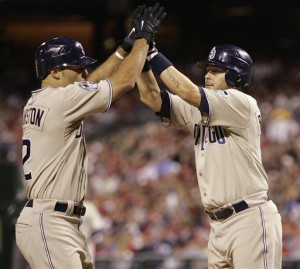 bell's got 6 saves (out of 6 opportunities)… mainly throwing the cheddar… it's awesome to see batters late and overmatched!
if you go to the boxscore, check out that bullpen action — helpin' out young with scoreless relief
stay hot!