you could definitely tell that this was the inaugural year for the beerfest. TERRIBLE organization and many of the booths ran outta beer by 5:30p!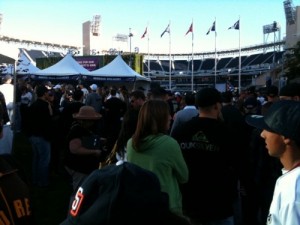 so dave, geoff, and i arrived at the ballpark and was greeted with two crazy lines to get into this REALLY small setup (it was right behind the kids' baseball field)
so ridiculous — i really LOVED the idea of them having a beerfest, especially coincided with the brewers' visit. however, i think the marketing folks underestimated the number of people who would be at this event.
in one word, it was a clusterf*ck… people were annoyed by how cramped everything was. it was discouraging to see people just cutting in line
we lost dave for a moment, but then i spotted him at the friggin' anheuser-busch booth… i didn't get outta work early to drink bud light — f that
i think about 30-45 minutes after we arrived, geoff and i finally got our first beers: "why ? not" american wheat beer by new english brewing co. got two of those each so we could jump into another line and get more.
this next line for green flash was a lot quicker… or was it just the beer that we were pounding? (btw, i really hate drinking beer like that — a microbrew must be enjoyed, not pounded… anyway. got to the front of the line and was the LAST PERSON to get a beer… hop head red ale (got two of these, but like a good friend, i gave one to dave… errr… sold one to dave)
we make our way to the hill at the park at the park and catch a small glimpse of the broken lizard guys (sans jay chandrasekhar aka ramathorn — booooo)
i needed to eat at this point so we go to one of the hot dog spots behind the batter's eye… as i'm in line, my eye is caught by none other than channel 4's jenny cavnar. i was caught between getting a hot dog and taking a picture with her… what did i end up doing? well… if you follow my twitter account, you'll know that i didn't get the picture — missed opportunties!
tho i did get this pic at least: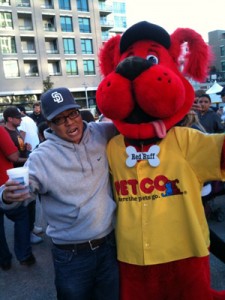 in all… they can only go up from here… maybe reserve a bigger area for the lushes and have the breweries bring enough for the two hour event
the plus sides: i got my swarm badge and the padres won with a bell save… keep it rollin'!