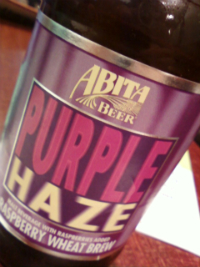 store: sublime pizza
type: fruit/vegetable beer
abv: 4.20%
so i had this beer at sublime pizza at eric/jenn's fundraiser a while back. this place is great btw — definitely try it out if you're in the 4s ranch area.
i really had no idea what this beer was… DEFINITELY wasn't expecting a raspberry beer… and a crappy one at that.
i thought since it had a cool name like "purple haze" — it'd be a crazy strong beer… not something made from a purple fruit… christ
had enough? yea, me too
beeradvocate: C+
me: D