beer: oggi's california gold blonde ale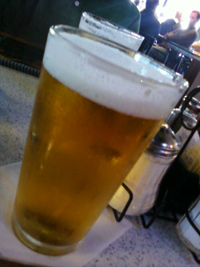 store: oggi's
type: cream ale
abv: 4.50%
although the food at oggi's has gone downhill as of late, their beers are still good.
i went with andy and chaunce (and yes, that just makes andy's name that much bigger in the tag cloud) during lunch for a pizza and a beer.
i'm a fan of this type of beer… island's has a similar type (which i've had, but haven't written about just yet — yea… backlogged).
* actually part of the reason why i haven't written about that one is because i forgot its name… anyone help?
i'm actually surprised that it got such a bad review on beeradvocate — it's a good beer to have with a meal. it's got a good crisp, wheat flavor to it
beeradvocate: C
me: B+