beer: köstritzer schwarzbier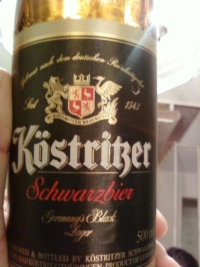 store: major market
type: schwarzbier
abv: 4.80%
suggested by: juan
i'll start off with the grade — i'm giving this a solid A. i'm a fan of "coffee beers" and this was no exception.
this one also came in a bigger 500ml bottle, which worked out cuz it was delish — i would definitely go back to this one and i suggest it to anyone who likes darker coffee-like beer.
finally, another beer with an A grade that rivals the peche lambic!
beeradvocate: B+
me: A