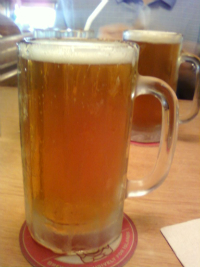 store: islands
type: not sure exactly, i'll say cream ale
abv: 5.50%
i like islands for happy hour… decent food, but their beer is served the right way — cold and in frosty mugs…
one of my favorites of theirs is the standard — the golden ale
it's strange to look for something on google and not finding any results. not even beer advocate had any results on this — perhaps i'm not putting it's actual name or something… i dunno.
"how'd you know the abv, joe?" — well, lemme tell ya
i went to the islands web site and filled out their contact form (don't get me started on their use of "comic sans"). here's what i typed:
I had the Golden Ale at your restaurant and I really liked it.Do you know what the ABV of that particular beer is? I couldn't find it anywhere online.
then… a speedy TWO days later, i get this response in my email:
Hi Joey,
Thank you for taking the time to visit our website.  I checked with our Food & Beverage Director, our Golden Ale ABV is 5.5%
I hope this information was helpful!
Sincerely,
Traci Casteel
Islands Restaurants
yes, traci, it was helpful
beeradvocate: n/a
me: A