beer: hoegaarden original white ale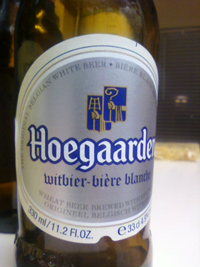 store: costco
type: witbier
abv: 4.90%
suggestion: andy
nice, light beer… pretty refreshing — i'm pretty fond of it… it's similar to a hefeweizen i guess, but i'm not a fan of that kinda beer. i find it odd to put orange or lemon in a beer… just. odd.
apparently, it won gold at the world beer cup
this was my last beer of the night — enjoyed after sprolesy scored the OT touchdown… maybe that might've affected my taste of it — everything tastes so good after a chargers victory!
beeradvocate: B+
me: A-