beer: gordon biersch sommerbrau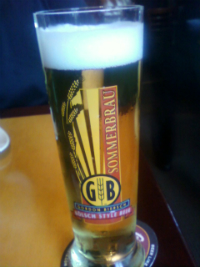 store: gordon biersch
type: kölsch
abv: 4.6%
so this was a consolation beer after waiting roughly an hour for district 9 (and then getting turned away) with geoff.
this is currently the seasonal beer at gordon biersch and it's definitely worth a shot — i really like wheaty beer… there's a crisp, refreshing flavor…
it went awesome with my meal: cheeseburger and garlic fries (appetizer of beer cheese soup)… the beer cheese soup is AMAZING… the cheeseburger kicked my ass tho — i dunno what it was. i still maintain that the bun was a bit "tough" (for the lack of a better term)
oh well… it's still good beer AND they're on twitter! AAAAND they respond to tweets (cont'd)!
(i'm currently asking them what the abv of this beer is — let's see how fast they respond)
UPDATE: they responded!
beeradvocate: B+
me: A