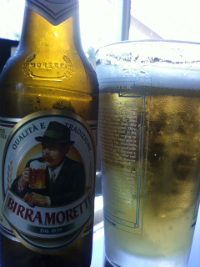 store: trader joe's
type: euro pale lager
abv: 4.60%
suggested by: debbie morales
so this is one of three different types of beers that were given to me as a 'thank you' gift from andy's mom, debbie (being a computer nerd has its perks). it's funny how reformatting a computer is like pulling teeth to some people, but to me — it's actually fun… something about wiping a computer and making it faster than before.
apparently, i didn't have italy up on the list so this is her contribution to the list!
birra moretti was a very clean, drinkable beer… if you're a comparison-type person, then it kinda was on the same level as a miller lite, which isn't a bad thing… if i had a choice between ML and CL, i'd totally choose ML.
poured into my frosted stone smoked porter mug with a one-finger head and had a gold color to it
overall, it was a good after-work beer that won't destroy you or anything… i could totally drink it again… i accompanied it with the awesome combo from vons*
*if you're not familiar with the combo, it's potato wedges, mac/cheese, and chicken strips (LIKE A BOSS!)
beeradvocate: C
me: B