new site theme is up and running!
i'm sure i forgot something so if you see any errors… lemme know (my qc guy is in town, but i'm excited to roll out with this)
not like you care, but this is hugely different than the previous theme i had (white with the red line at the top)… this one has a bit more color in it and a few more elements that i've picked up recently
to start, the main logo is a transparent png with a rollover AND it degrades nicely if you're using a shitty browser like ie6…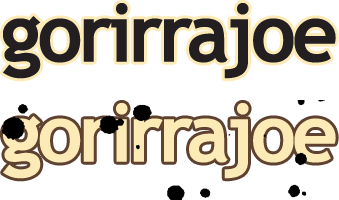 so it's one image, and the css switches the image when you roll over it… this method is pretty cool and super easy to pull off. the end result is clean and it loads quick!
then there's the overall color scheme… i wish i was better at color theory, but i'm not. so i gotta do research on colourlovers for inspiration. i knew i wanted a "web 2.0" (ugh) color scheme and i think i did it…
another thing that's cool is the footer — i knew i wanted to do a design with a 3 column footer… i've seen kids these days doing it so i wanted to join that crew… i moved the archive list down here, put a short little bio (that's a first for me), put the social networking sites, and re-added my signature in the copyright
i really like logos… especially when they're sharp… thanks to the interwebs, i was able to find a set of illustrator vectors of the social networking site logos. so i was able to resize them down without losing quality… i used the rollover styling here as well

and to celebrate, i'll throw in a song… it's actually a song i just learned on guitar — it's SUPER simple even andy could prolly play it
it's

jason mraz's "anything you want" off his live cd – "beautiful mess: live on earth" (hulu)