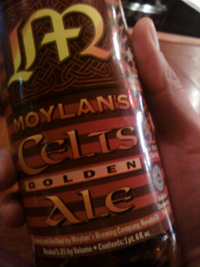 store: kashtan bistro
type: american blonde ale
abv: 5.00%
strange… it's a domestic… coulda sworn that this guy was from… umm… ireland?
well if you've had hoegaarden and liked it, then you'll probably like this one… it's a light flavored beer with similar taste. another one that would be great in the summer time.
i think i'm up to 4-5 beers at kashtan, which is pretty pathetic… i kinda slowed down a bit. but it's a marathon, not a sprint… i gotta pace myself — i really want that crown-prince title, dammit…
beeradvocate: C+
me: B-